Welcome to the
2024 MMJ Aquathon!
Once you have entered please ensure to read all key information below to make your  MMJ Aquathon event experience, super fun, safe and a memoriable.
arrival
Arriving at Aquathon
New to the area? Check out the VISITOR PAGE for travel/accommodation advice.
Loads of nearby parking.
Marine parade/Endeavour road is open as are all the parking bays near the lighthouse.
All use nearby streets.
EVENT DAY: CHECK IN- REGISTRATION
Thanks for entering!
We can't wait to see you at Wollongong harbour on Friday 26 Jan public holiday.
Please ensure to READ ALL BELOW in readiness.
It's ON ALL WEATHER so be prepared.
*Only extreme weather / high risk may force course changes or last cancellation as per event terms and wavier.
Allow ample time to park and walk to venue!
Having fun is what Aquathon is all about – let's make it a special, safe and a fun experience to remember.
RACE NUMBER – E-TICKET
All participants will be allocated a race number (Tag teams one number). This number is also your time chip (ankle velcro strap) that is provided to you on event day morning at registration.
Race numbers are issued ON THURSDAY 25th JANUARY 2024 (AFTER 4pm) you will receive your e-ticket with your number via email from registernow (where you entered online).
 If you enter after 3pm on Thursday 25th January  you will still get your race number via email instantaneously but but will need to collect your race number time chip at the LATE ENTRY TABLE at registration.
KEEP THIS NUMBER- you will need to show it on event day at registration to get your time chip.
If you don't receive the number or miss place the email, that's ok registration will find it for you.
 ———————————————–
Event day: Check In

Location: The Old Court house – 1 Harbour street Wollongong. Straight across road from Belmore Basin on corner Cliff and harbour streets.
———————————
REGISTRATION TIMES
Fun run 6.30am – 7.50am
Long Aqua: 6.30am-8am
Kids/Mini Aqua: 7.30am-9am (mini 8.45)
Short Aqua: 8am-9.30am
——————————-
– Arrive at the dedicated registration time as per event schedule.

– Go the the table per your event sign (Fun run, Kids, Mini, Short or Long) and Late Registration (see below)
– Show your designated e-ticket email with race number to volunteer
– Collect time chip envelop that is given to you along with any other tags or merchandise

– Swim caps are collected outside registration at the Horizon Bank marquee on right as you exit indoor hall.

– Go to Wollongong harbour across the road.
– Place velcro time chip around left ankle.
– Aquathon- make sure you have your Eyeline swim cap for the swim start.

– Funrun – You will also be given a wrist band to ear. Your start is 8am at the start / finish arch. Arrive 15min earlier for pre event briefing.

Listen to announcer instructions and refer event schedule below.

Note:
Teams – one person to collect chip


Parent attend with child/ren

Teams: The swimmer starts with time chip on left ankle, after swim hand to runner to wear on their left ankle.
Late Entry? All entries after 3pm on 25/1/24 right up to each event start will need to collect their time chip at the LATE ENTRY TABLE registration. 
Still to enter- Click Here: ONLINE ENTER LATE ENTRY HERE.
Once you register and pay, you will receive your race number via email. Bring this to registration and collect you race time chip as normal.
timing chips
Timing chips record your time.

Must be worn on left ankle.

Take out of envelope provided at registration and place on left ankle as instructed.

Ensure velcro strap is firm but not super tight – it's your responsibility to place velcro on securely.

Failure to wear velcro on left ankle will not record a time and forfeit results.

Teams: Swimmer begins with velcro, at change area simply swap velcro time chip to runners left ankle!

Lost time chip incurs $25 replacement fee.
SITE MAP - TRANSITION
For Aquathon participants, the "Transition" is where you place your running gear / towel and change from the swim to the run.

NORTH SIDE OF THE HARBOUR – KIDS/MINI AQUA

SOUTHERN SIDE OF THE HARBOUR – LONG / SHORT AQUA

Each event distance has a designated transition area.


Refer to site map

Keep gear to minimal – just what your need to do the event. Towel, run shoes/gear.

Place run gear/towel on side of concourse or on grass spaced out.

Avoid personal belongings.

Remember where you placed your gear! – maybe use a bright towel or get a sight mark to remember.


NO parents/public allowed in transition after events start (unless 1 helper for kids U10)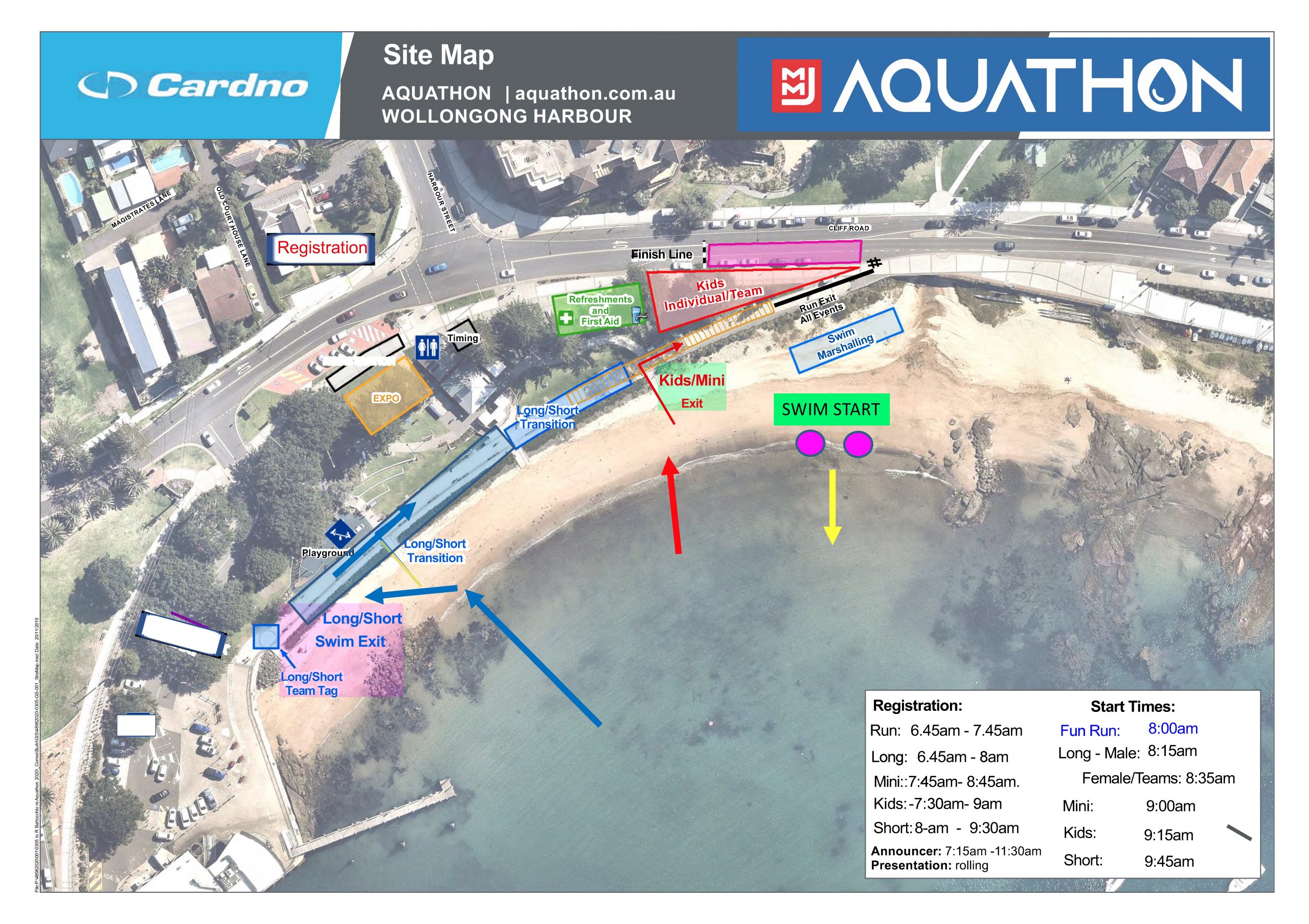 BLUE-MILE 5 FUN RUN
The Blue-Mile 5 fun run and walk is set to kick off the fun of Aquathon at 8am.
Check in as instructed above as per Aquathon events.
7.45am. Go to the West side road side of the finish arch (road is closed to traffic) for a 8am start.

The course is 5km total- along a 2.5k out and back course follows the blue mile as per map (refer event page). The fun course is mostly cycle way with a 800m grass section (done twice) out and back with water station at 1k/4k mark, with fruit/water and first aid at the finish.
Check out event page for event details, maps, age categories and all you need to know.
AQUATHON SWIM STARTS
STAGGERED STARTS GROUPS OF 2!
All swims start on shoreline of Wollongong Harbour based on age/gender/event.
'Walk to start line on the sand in the shute that will be set up (2 people at a time). Each pair will be separated by few seconds. Listen to swim referee for instructions.

Keep to gender/age groups as indicated.
Your time starts when you pass the time recorder on swim shoreline entry and finish on the finish line.
Each swim course is set before the start, with large visible markers.
The warm up area is north of swim start, avoid swimming inside the course area.
Swimmers will be called in age/event groups.
Swimmers must where the official eyeline swim cap and time chip provided at registration.
A team of experienced lifesavers and first aid officers will support the safety of participants
Swimmers must adhere to all safety regulations and event referee instructions.
Parent/guardian can swim next to child U10.
Courses: Refer to each event page for course and maps. Note: event organisers reserve the right to alter the course due to safety concerns.
Swim start times: scroll down.
Water conditions:  Water temperature is normally a very pleasant 21-22 degrees. Wollongong harbour is a relatively small recreational boat harbour, with swimmers, paddlers and also yachts and small fishing fleet. Whilst mostly sheltered from elements it can be exposed to wind, rain, and storm water as per most beaches, along with tidal movements.

TEAMS
Teams complete the Aquathon as a relay of two -one person is the swimmer and one the runner.  Double the fun.
Same course as individuals

Swimmer starts with time chip on left ankle

Swimmer exits at 'team change' (Refer site map) and swap timer to runner ankle.

If not worn on ankle or chip not placed on correctly – no time, no result.

Both get finisher medals

 
KIDS AQUA 6-12's
'Kids Aqua' is all about fun and having a go!
TRANSITION AREA  is on

the furthest NORTH OF THE CONCOURSE!

Go to the "Smile" banner and place run/swim gear spaced out.

Listen to the announcer.

Briefing on shore 9am

Start times 9.15am 10-12, 9.25amn U10


Where – Look for swim start and flags on shore directly below kids transition

Line up per age group flags

Bring swim cap and time chip on

See swim maps and wait for swim briefing

Team runners – your 'tag' is swapping the swimmer time chipm from their ankle to yours- like a relay baton.

Team runners meet your swimmer at the TOP OF THE KIDS STAIRS transition area


Parent/s please attend and assist younger children.

Parent U10's you can swim/take part next to your child but leave to 'back of pack' to avoid other children

Parents – avoid waiting in the transition- leave this for kids.
SWIM
The swim is held in close proximity to shore within Wollongong harbour with loads of water safety. 

Two children at a time.


Weaker swimmers to the back.

parents can swim with U10s (go to back of pack)

 Loads of lifesavers on hand.
Transition

Exit the swim, run up the same stairs to your 'transition' – where you placed your run gear.
Run
All kids run out along the safe flat 'blue-mile' path.

1km out to a turn marker at north beach with a volunteer and sign board, plus water station

Go around sign do a U turn and run back the same way to the finish line!

Finish Line

Grab your medal, water and lots of cheers!
**Parents/carer please ensure to quickly collect child/ren post event.
* Please make sure your child/ren can swim the required distance unaided prior to entering.
MAKE SURE TO READ UP ON THE KIDS EVENT PAGE MAPS AND MORE.
FINISH AREA
Finish Line Announcer
Finisher Medals
Finish Line photography
First Aid
Refreshments
Sponsor stalls- MMJ, Peoplecare, Horizon Bank, Advantage Skin Clinic, Skin check for skin cancer,  give aways and more!!!
AWARDS, PRIZES, GIVE AWAY'S
ROLLING AWARD COLLECTION.
1. Results: Go to mulitsporttiming for Live PROVISIONAL RESULTS (provisional awards)
2. Check your event page for age/team categories
3. Check awards
4. Collect your awards
Fun Run and Aquathon category gnder and age and team winners are called out and asked to attend the nominated area to collect – this occurs after each event as per the following times:
9.15am- Fun Run
9.45am – Long Aqua
10.15am – Kids Aqua
11am – Short Aqua
 Where?
Activate Branded Marquee near exit of recovery area
Show proof of your position (via online result) and collect medal/award. (We can only verify based on live results at the time. Any dispute will be managed after the event. please contact the team via email).
PRIZES!
See each distance for age/awards and overall.
SPOT PRIZES- EVERYONE GOES INTO THE DRAW ANNOUNCED POST EVENT ON AQUATHON SOCIAL MEDIA PAGE

Skydive the beach  x  tandem jump
Treeetops adventure Park family pass x 2
Diggies $50 voucher
Jamberoo Action park passes x 2
STALLS & GIVE AWAY'S
MMJ stall and  give away's
Horizon Bank stall and give away's
Advantage Skin Clinic stall- skin checks, sun cancer checks
Peoplecare Health fund
r21 fitness and active wear
FINISHER TIMES, RESULTS, IMAGES
EVENT SUPPORT
Water safety

Medical

Run marshals

Event staff

Closed roads

All key approvals and permits
TIME

6.45am-10am

Online late entry open to each event start!

8am-10am
**Briefings occur 15min prior each start

8.00am

8.15am

8.35am



8.50am

9am

9.15AM

9.25AM



9.45am

9.55am

10am


AWARD PRESENTATIONS ROLLING
Collect at Activate Marquee
Check website aquathon.com.au for results

9.15am
9.45am
10.15am
11am
TIME

6.45am-10am

Online late entry open to each event start!

8am-10am
**Briefings occur 15min prior each start

8.00am

8.15am

8.35am



8.50am

9am

9.15AM

9.25AM



9.45am

9.55am

10am


AWARD PRESENTATIONS ROLLING
Collect at Activate Marquee
Check website aquathon.com.au for results

9.15am
9.45am
10.15am
11am