Aquathon is a swim followed by a run and super fun!
'Kids Aqua' distance is just for kids 7-12 years of age and draws our largest cheers. Hundreds take part and we go all out to make it a safe and fun experience.
Swim+run on your own, team style (one swimmer and one runner) and parents can tag along and help U10's too.
All finishers recieve a medal.
The 10-12's start with 200m swim close to shore in Wollongong Harbour then a flat 2k run along the scenic blue mile track the U10's swim drops to a 120m swim and the same 2km run – both fully supported by our awesome lifesavers and volunteers.
Since 1999 thousands of kids have taken part, and with a focus on safety and fun you can too. Check out what Kids Aqua is all about and join in
DATE:

Thursday 26 January (Public Holiday)

LOCATION:

DISTANCE:

U10's: 120m swim+2k run / 10-12's 200m swim+2k run

AGES:

6+ (6 years require parent support)

ENTRY OPTIONS

LEVEL:

CHECK-IN TIME:

EVENT MAP:

START: Males

START: Female & Team

RESULTS

CATEGORY AWARDS

1st, 2nd, 3rd per age and gender medals.1st Jamberoo Action Park Pass
Teams 6-9yrs MIXED ONLY (Any gender) 1st, 2nd, 3rd.10-12's Team: Boys, Girls,Mix team categories 1st, 2nd, 3rd awarded.

MINIMAL AGE

6 years as of 26/1/2022 (6yrs needs event director approval
SWIM STARTS

RESULTS
https://www.multisportaustralia.com.au/
Don't feel like doing the whole Aquathon yourself? More of a runner or swimmer? Then buddy up and enter as a relay with one swimmer and runner- The RMB Lawyers Relay Team is for you

One is the swimmer, one is the runner. Relay style – Simple as that.
GRAB A MATE
Choose your preferred distance
Enter online – select 'teams'.
Select your division – age categories along with parent and child and business divisions
Join the fun
Entry to Australia's largest Aquathon

Professional services, and safety

Amazing crew and volunteers

Eyeline swim cap

Finisher medals

Electronic timing and results

Age division medals and prizes
Swim: U10's 120m / 10-12's 200m

Kids are treated to a safe and fun swim, carefully watched and supported by our amazing lifesavers the whole way. Start on shoreline of Wollongong harbour, kids swim a rectangular course and keep no more than 60m off shore. U12's follow a 20om course and the U10's drops to 120m. Parents of U10 children are welcome to swim alongside but please keep you and your child at the 'back of pack' for safety.
Please ensure your child/ren are able to swim the distance 'unaided' to meet entry conditions.

Transition / Change area
Exit the swim from the shoreline, then run up the stairs to the run change area as directed.

Run: 2km
It's flat, safe and fun -follows the coastline all along the beautiful 'blue mile' track to north beach and back.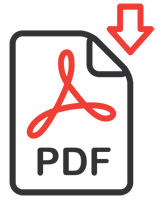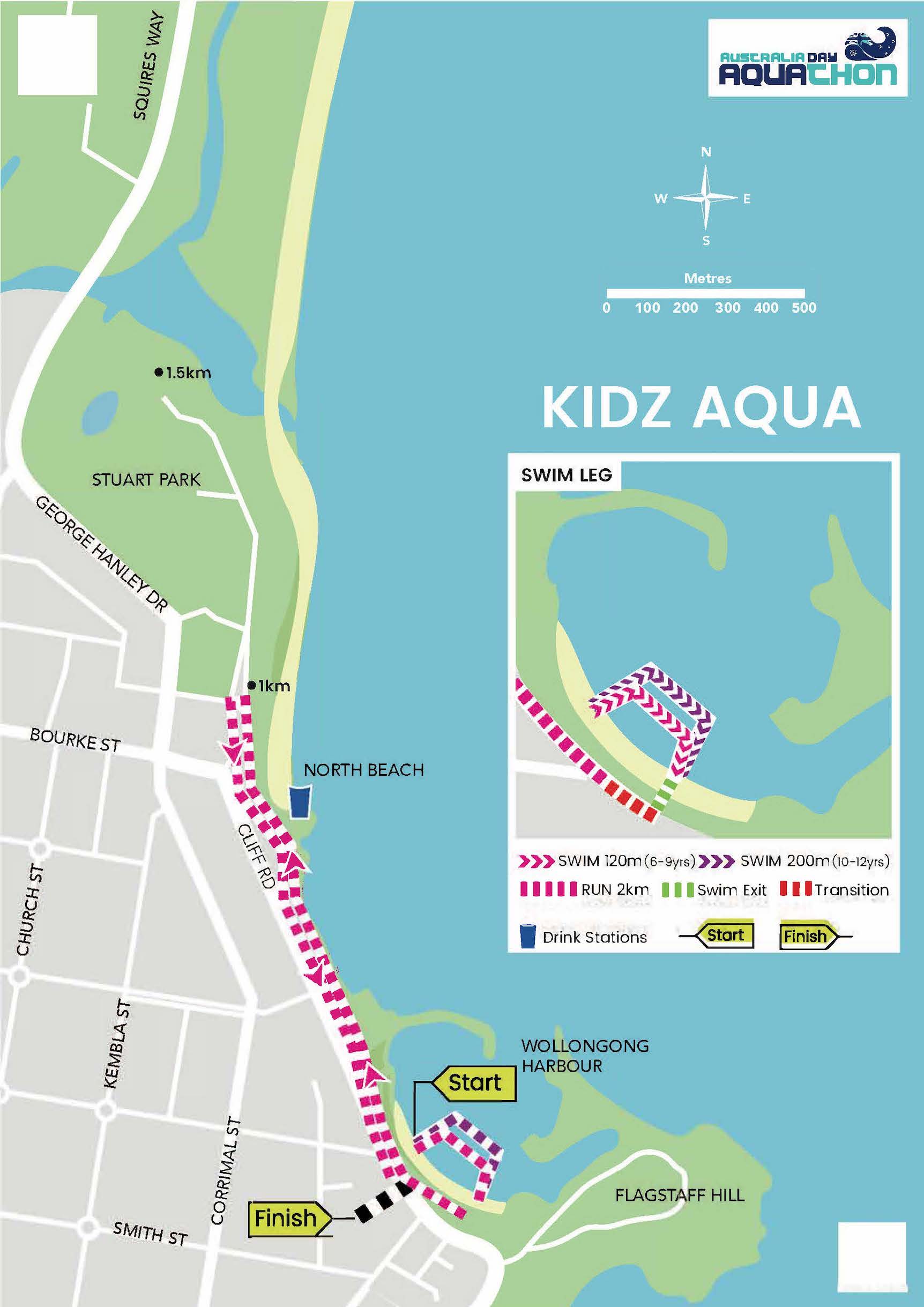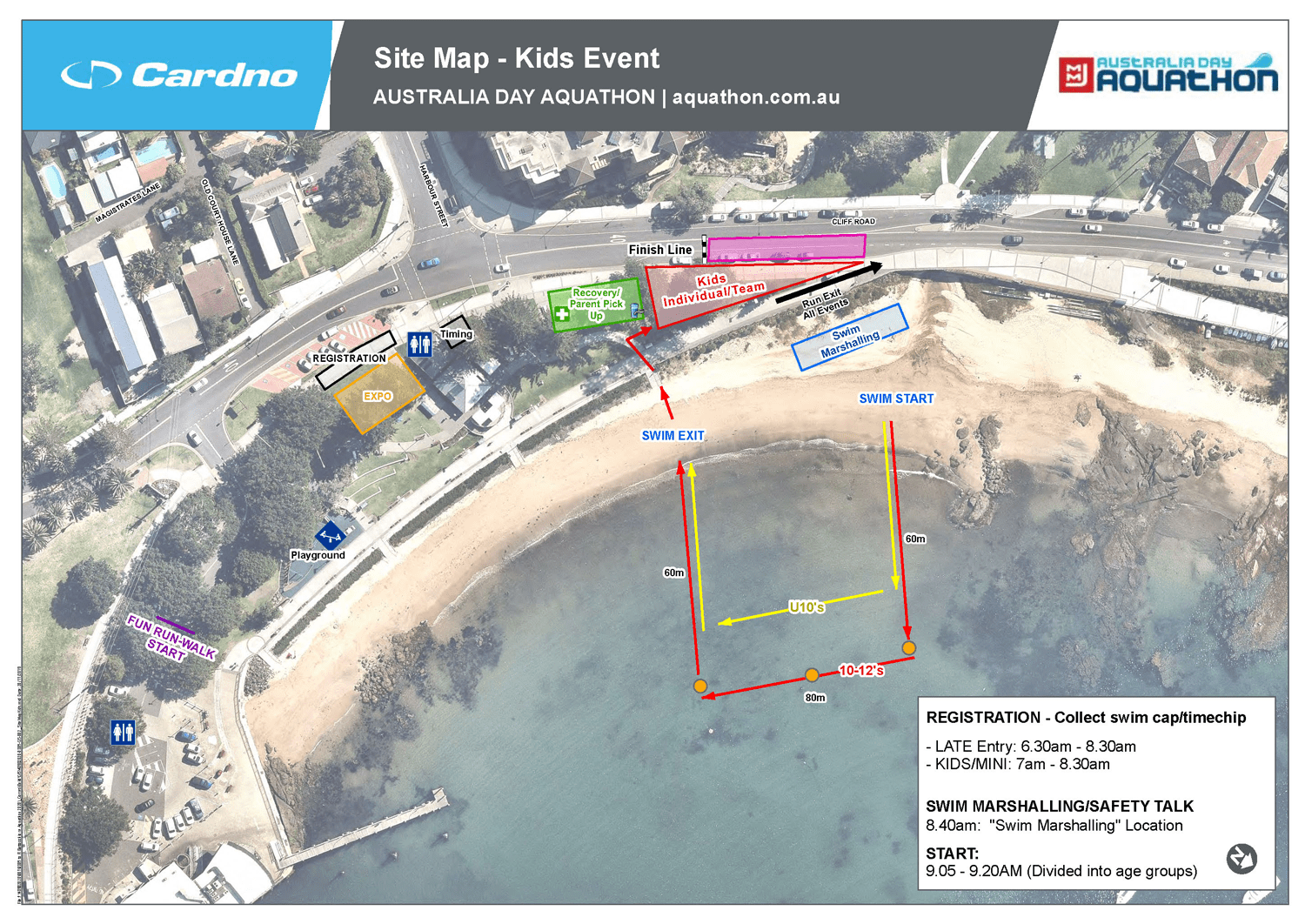 TYPE

U13

Team

Parents
$0 with child U10 as support
TYPE

ON TIME 6.12.21 to 17.01.22

U13

Team

Parents
TYPE

LAST MINUTE 18.01.22 to 25.01.22

U13

Team

Parents
AQUATHON IS FUN
Aquathon entrants are treated to a safe and fun event, supported by a spectacular location, on course safety services such as water safety, friendly course marshals, signage and water stations